---
The era of positive brands and sustainable innovation has begun – the ones who strive to improve the human condition, life in society and our relationship with nature. But they also want to ensure successful business, because there is no economic model on a bankrupt planet. The Noé Program is a response to questions from companies about strategies, business models and offers that can meet the challenges raised by economic, digital, ecological and societal transition.
It's a kind of an incubator to boost projects that are already under way, or an opportunity to master the most advanced tools and best practices in these areas.
THE NOÉ
PROGRAM
100 participants
3 days: May 5-7, 2020
2 entries
– Enhance an existing project
– Generate a new project starting with a societal challenge
2 founders: Danone & Utopies
3 partner companies #intrapreneur4good (>20 participants): BNP Paribas, Engie & Danone
NOÉ GOALS
Share with participants the resources needed to trigger and drive sustainable transformation for the brands and offers within their company:
1/ Discover the potential of positive brands and sustainable innovation with inspiring examples and concrete case studies.
2/ Learn and experiment with cutting-edge marketing and innovation tools and methods.
3/ Develop a prototype for a solution with a positive impact.
4/ Cultivate an intrapreneurial mindset to shake up existing practices in your business.
5/ Join an online community of positive innovators from all sectors and all occupations.
---
KEY MILESTONES OF THE PROGRAM
– Partner companies send 20 people: some already have intrapreneurial profiles but are looking to ramp up their skills, others attend to acquire new skills that will be needed for future projects…
– Other companies send participants to acquire new skills by working in teams (or tribes) on projects/challenges initiated by the partner companies.
HOW IS THE PROGRAM STRUCTURED
Alternating plenary sessions to find out the latest intel, knowledge, strategies and tools from the world of sustainable innovation, and collaborative workshops in small groups.
And above all, over the course of three days you will be amazed and inspired, you will have fun and develop your skills, both personally and as a group!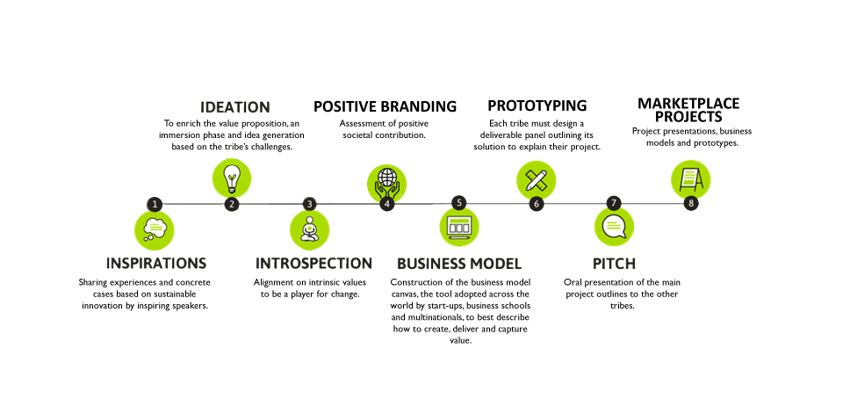 ---
7 HIGHLIGHTS OF THE NOE PROGRAM
1. Founders with shared values
and complementary expertise
UTOPIES – Sustainable innovation and positive branding
DANONE – Organizational transformation, leadership programs with an individual/group dimension
3 partners companies #intrapreneur4good (>20 participants)
BNP Paribas, Engie & Danone
---
2. An exceptional place surrounded by nature
Hôtel Ermitage in Evian: an unique location that encourages
cohesion and reflection as well as sparking energy and vitality.
---
3. Inspired and inspiring speakers

Emmanuel Faber – CEO of the Danone group, France
Jay Coen Gilbert – Co-Founder of the B Corp movement, USA
Shainoor Khoja – Director of the Roshan Foundation, Afghanistan
Richard Bergfors – CEO of Max Burgers, Sweden
Thomas d'Ansembourg – Psychotherapist and Certified Trainer in Conscious and Non Violent Communication
Navi Radjou – Author, Innovation and Leadership Advisor
Elisabeth Laville – Founder of the consulting firm Utopies
Anne Thevenet – Prospective and New Concepts VP, Danone
Cyril Dion – Writer, Director (Demain), Poet and Ecological Activist
Thomas Huriez, Founder of 1083
……
4. Guidance from coaches and experts
One coach for each tribe to drive the thought process and one "Expert Room" to support the teamsand challenge the projects
---
5. Ambitious innovation challenges
for the partners and the business
EXAMPLES OF CHALLENGES AND PROJECTS FROM PREVIOUS EDITIONS
– How can we channel the power of the circular economy to minimize the environmental impact of bottled water?
– How can we raise awareness among parents about the specific needs of a newborn baby and about maintaining an adequate diet for the first 3 years of the child's life?
– How can we make sure that building materials are reused locally by small and large companies?
– How can we get large and medium-sized stores to encourage renting and exchanges among consumers?
– How can we adapt living arrangements to the specific needs of the elderly, matter what their income may be?
---
6. Tools and cutting-edge innovative approaches
– Sustainable IdeaMaker */**
– Stormboard **
– B Model Canvas
version enhanced by Utopies
– Ikigai Purpose Canvas *
– Pitchmotion **
– FabLab **
– And many others!
Designed by Utopies* and Nod-A**
7. Regular success
There have already been 3 editions, 25 companies, 300 participants.
With an average satisfaction score of 8,6/10
WHO IS THE PROGRAM DESIGNED FOR?
Noé is for anyone who wants to learn about the most advanced tools and models
that can be used to invent the positive brands and offers of the future. Especially:
‐Managing Directors who define strategy
‐Marketing departments that keep brands alive
‐CSR departments that ensure companies use responsible good practices
‐R&D/innovation departments that design the offers of tomorrow
‐HR departments that put new working methods into place
‐Intrapreneurs who develop meaningful initiatives in any professional position
‐Financial departments that design future economic models
‐Purchasing departments that source raw materials and key partners
 FEEDBACKS FROM PREVIOUS PARTICIPANTS